SWAB 2016 Barcelona
scroll down for press releases of the galleries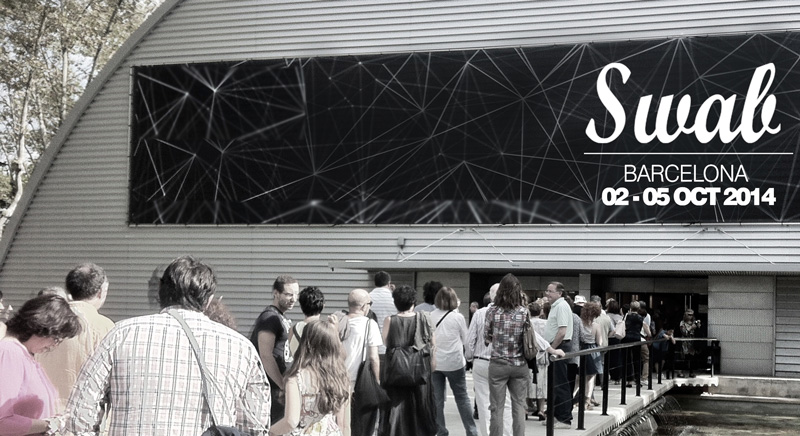 Swab is the only Contemporary Art Fair founded by an art collector this offers a unique vision for the visitors and the final buyer's point of view. Our proposal is to break with the elitist and hermetic idea that often surrounds the contemporary art scene, making it more accessible to the general public.
Swab wants to be a Fair to discover, a place to find works never seen at other Fairs. That is the reason why its selection committee formed by gallery directors and art professionals not only make a selection of received applicants. At Swab, process of election is based on searching and following the artist's works from any discipline that represents in any way the emergent art of their countries. Swab combines the participation at the Fair by invitation and by application.
Swab keeps its origins based on creating opportunities for emerging galleries, artists and commissaries that begin their art career. One of our objectives is to offer them access to the art market, something difficult currently with the actual situation and its endogamic trends.
Following this premise on 2011 MYFAF was created. It gives the opportunity for young galleries that had never participated in Art Fairs to present their program sponsored completely by Swab.
Swab not only supports emergent art in the creation field. Its objective is also to promote contemporary art collections, making the initiation easier through the participation of young artist with affordable works. These new art collectors are fundamental to keep the art market in our country alive and to guarantee its continuity.
Swab continues to grow. The International Contemporary Art Fair of Barcelona, focused on the newest creations, gathers more galeries and presents five new programs (of 9 total ones): Focus Magreb , with its focus in different artistic groups from Morocco, Algeria and Tunisia; In/Out, a curatorial project of artists from different galleries of Barcelona; Cross - Boundaries:Moving Images from China, a selectionof 3 emerging Chinese filmmakers who inaugurate the residence of artists, Swab House ; So Close, So Far , a reflection of the actual geopolitical context through photographs. From 29th September until 2nd October, a total number of 73 galleries exhibit the work of hundreds of artists. In 2015 the participant galleries were 65 ; in 2014 the number was 59, and in 2013, 52. The art fair takes place at the Italian Pavilion of Fira Barcelona, located in front of Font Màgica de Montjuïc, an open space of 2500 square meters. Collectors from all around the world are visiting Swab drawn by its new edition and the parallel activities it offers such a visits to private collections, foundations and cultural institutions of the city . The countries that are represented in this edition are 25, 3 more than last year : Italy, Switzerland, Greece, India, Colombia, China, Japan, Argentina, Russia, Portugal, Mexico, Chile, United States, Austria, Morocco, Algeria, Tunisia, Holland, England, Belgium, Germany, Poland, Denmark Korea and France.
/ Exhibitors - City/:

/ ART and ARS Gallery - Galatina / arte periférica - Lisbon / a-space gallery - Switzerland / Galleria Giovanni Bonelli - Milano / ena contemporary Art Gallery - Athens / 3 Punts Galeria - - Barcelona / N2 Galería - Barcelona / Galeria Trama. - Barcelona / Galería Victor Lope - Barcelona / Gallery 1000a - Gurgaon / Gallery Irritum - Daegu / Galería + Arte Contermporáneo. - Bogotá / Galería Rafael Pérez Hernando - Madrid / Galería SGR. - Bogotá / Island 6. - Shanghai / JPS - HongKong / La Fiambrera. - Madrid / Pantocrátor Gallery - Suzhou / Pabellón 4 - Buenos Aires / Progettoarte Elm - Milano / Kaplanon. - Athens / Krokin Gallery. - Moscou / Rocio Santa Cruz - Barcelona / Savina Gallery. - St. Petersburg / Sun Art Gallery - Tokyo / Trema Arte Contemporanea - Lisbone

C.Prats de Molló, 7 08021 Barcelona


+34 934 17 30 04 e-mail:

This email address is being protected from spambots. You need JavaScript enabled to view it.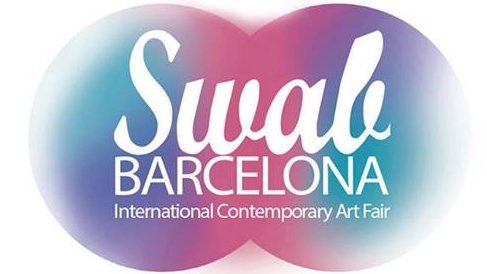 29 september > 2 october 2016

Opening hours Thursday 29th September
5 pm. Collectors Preview (only by invitation)
6 pm. Official Openning of Swab Barcelona 2016 (only by invitation)
Friday 30th September
4 pm to 9 pm. Open to General Public
Saturday 1rst October
12 pm to 9 pm. Open to General Public
Sunday 2nd October
12 pm to 8 pm Open to General Public