ArteSantander 2016
scroll down for press releases of the galleries

Exhibitors:

ADORA CALVO Salamanca YANG LUN "Heterotopia: escritura de Heteroto-Luz" www.adoracalvo.com - ALEGRÍA Madrid STEFAN RINCK www.galeriaalegria.es - ANGELES BAÑOS Badajoz SUSANE THEMLITZ "Ese paciente laberinto"www.galeriaangelesb.com - ANTONIA PUYÓ Zaragoza DAVID LATORRE "Arquitectura, cuerpo e indumentaria" www.antoniapuyo.com - ARTÍZAR Sta. Cruz de Tenerife UBAY MURILLO www.artizar.es - ARTNUEVE Murcia PRUDENCIO IRAZABAL / JAVIER PIVIDAL "Le bruissement" www.artnueve.com - ATM Gijón. Asturias IXONE SÁDABA www.atmgaleria.com - AURAL Alicante JAVIER VALLHONRAT "Eolionimia (2013-2015)" www.auralgaleria.com - BI-BOX ART SPACE Biella. Italia GIULIO ZANET www.bi-boxartspace.com - BLANCA SOTO Madrid OSCAR SECO y JONATHAN NOTARIO. Comisariado: Blanca Soto www.galeriablancasoto.com - CANEM Castellón de la Plana JOSE ANTONIO ORTS "Esculturas interactivas" www.galeriacanem.com - COLLECTIVA Berlin. Alemania REGINA NIEKE "The figurative element" www.collectivagallery.com - ESPACIO CREATIVO ALEXANDRA Santander JUDAS ARRIETA www.espaciocreativoalexandra.com - ESPACIO MARZANA Bilbao. Vizcaya NAIA DEL CASTILLO "Nido de abeja" www.espaciomarzana.com - ESPACIO VALVERDE Madrid ELENA ALONSO "El espacio alrededor" www.espaciovalverde.es - ESPAI TACTEL Valencia TIM BISKUP www.espaitactel.com - ESPIRAL Noja. CANTABRIA JOSÉ CARLOS BALANZA www.galeriaespiral.es - ESTELA DOCAL Santander YOLANDA NOVOA "El sueño de Penélope" www.esteladocal.com - ETHALL Barcelona SERGIO PREGO www.ethall.net - FREIJO GALLERY Madrid PAUL MUGUET "Secuencias mexicanas / mexican sequences" www.galeriafreijo.com - GALERIA SILVESTRE Madrid / Tarragona ELLA LITTWITZ www.galeriasilvestre.com - GEMA LLAMAZARES Asturias AVELINO SALA " Distopias. El mapa y el territorio" www.gemallamazares.com - GUILLERMINA CAICOYA Asturias TEO SORIANO www.galeriacaicoya.com - JAVIER SILVA Valladolid LUIS CRUZ HERNANDEZ "Elegir la propia máscara" www.galeriajaviersilva.com - JAVIERLOPEZFERFRANCÉS Madrid ERIK PARKER www.javierlopezferfrances.com - JOSEDELAFUENTE Santander RUI PEDRO JORGE "To Pack! A painting paper box story" www.josedelafuente.gallery - JUAN SILIO Santander DANIEL CANOGAR www.juansilio.com - KRUPIC KERSTING II KUK Colonia. Alemania JON SHELTON www.kukgalerie.de - KUBIK GALLERY Oporto. Portugal PEDRO VAZ www.kubikgallery.com - MAGDA BELLOTTI Madrid JEANNE DE PETRICONI y ALFREDO IGUALADOR www.magdabellotti.com - MANUEL OJEDA Las Palmas de Gran Canaria LUIS PALMERO www.galeriamanuelojeda.com - MATERNA y HERENCIA Madrid BARBARA RUEDA y CORINA YLLERA www.maternayherencia.com - MOISÉS PÉREZ DE ALBÉNIZ Madrid JUAN USLÉ www.galeriampa.com - MY NAME´S LOLITA ART Madrid LEO WELLMAR y la luz del norte. Una revisión romántica y conceptual. www.mynameslolita.com - NOVA INVALIDEN Galerie Berlin. Alemania SANTIAGO YDAÑEZ. "Ydañez Múltiple" www.novainvaliden.com - RAFAEL ORTIZ Sevilla MIKI LEAL www.galeriarafaelortiz.com - RAFAEL PEREZ HERNANDO Madrid MARTA BARRENECHEA www.rphart.net - SET ESPAI´DART Valencia ANA H. DEL AMO "Entre la O y la Y" www.setespaidart.com - SIBONEY Santander ENRIQUE LARROY "Salta a la vista" www.galeriasiboney.com - TWIN GALLERY Madrid TITO PÉREZ MORA www.twingallery.es - WATERSIDE CONTEMPORARY Londres. Gran Bretaña DANIEL MEDINA www.waterside-contemporary.com - YUSTO/GINER Marbella. Málaga ANGELES AGRELA / ANA BARRIGA "Storytellers / Narradoras" www.yusto-giner.com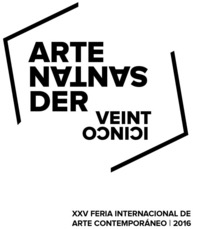 Palacio de Exposiciones y Congresos de Santander (Avda. del Stadium, s/n. 39005 Santander)


Tel. + 34 942 36 16 06 e-mail:

This email address is being protected from spambots. You need JavaScript enabled to view it.



July 16>20, 2016
Opening hours :

SATURDAY, July 16, 17:00 to 21:30 hours.
SUNDAY July 17 from 17:00 to 21:30 hours.
MONDAY, July 18, 17:00 to 21:30 hours.
TUESDAY, July 19 from 17:00 to 21:30 hours.
WEDNESDAY July 20 17:00 to 21:30 hours. CLOSING
mpefm
SPAIN fair art press release
Official Opening and Presentation Media :

(by invitation only). Saturday, July 16, 12.30.
Professional Visit (by invitation) :
from 10.30 hours. Closing the morning: 14:30
ACCESS TO EXHIBITION VENUE: Free from July 16 (afternoon) to 20 July in the exhibition schedule. Pass professional to galleries, curators, critics, directors, museum curators and collectors